Modernisation of automated parking systems
Future-proofing your parking solutions
Your parking system has come of age? Even the best maintained parking systems have many drawbacks once they come of age: lack of spare parts, non-compliance with modern safety standards and outdated user interfaces can lead to reduced performance. Instead of demolition and replacement, repair, refurbishment and modernisation represent cost- and time effective solutions.
Modernising a parking system is an attractive alternative
We modernise almost every parking system with the latest hard- and software components that ensure the safe and smooth operation of the system in the future. We update the complete system from the cabin design, to the latest in system control and operation — at a fraction of the cost of a new one.

After reviewing your existing planning and plant documents and on the basis of our on-site survey, we analyse the potential of your plant, assess risks, identify opportunities and draw up a transparent plan to base your decision on. Your new system is a tailor-made and individually designed upgrade to your existing facility.
We bring your system up to the latest in legal standards and user handling and offer options such ev-charging and parking space rental management.
Modernisation without interrupting the operation of the car park? Talk to our experts to find out how we can support you.
Benefits of future-proofing your automated parking system with us
Advanced safety and comfort
Modernising the entry and exit cabin of a parking system is a usefull investment in two respects: In addition to providing a modern control screen and user terminal, it also increases the safety of parking access. The effect: users will notice the positive change in the parking system.
Image description

1 | Light barrier
2 | Guidance screen
3 | Camera
4 | Motion and safety scanners
5 | Traffic light guidance
6 | Height sensor
7 | User terminal
8 | EV-Charging
9 | Contour & guidance scanners
Smart & modern access options
Offer your users the latest in access entry with our app, QR code access and number plate recognition solutions.
ParkGO! - our easy to use parking management app allows easy booking and administration of parking spaces with or without EV-charging. Secure API-integration is available for leading workspace apps such as ParkBee or MyOfficeSpace.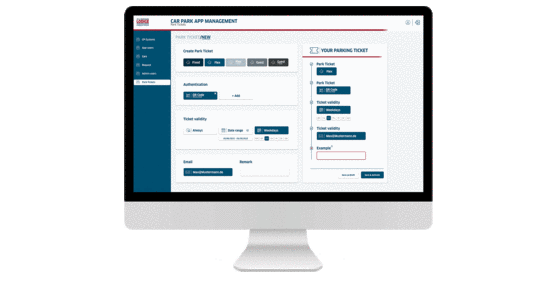 Access Terminal
Separate parking and retrieval terminals optimise parking process and offer a range of identification options such as personal PIN, RF-tag, QR or e-ticket. Live help on demand.
Numberplate recognition
Our automated numberplate recognition option enables efficient parking access control and vehicle flow. It avoids bottlenecks and provides additional security.
"ParkGO!" App
ParkGO! is the dedicated access app for Lödige Industries automated parking systems. Users summon their vehicle remotely and control the parking process. Live help on demand.
Future-proof car parking systems
Upgrade with the market leader
Seamless user experiences
Users will enjoy a smooth and intuitive experience in well-lit cabins. Clear instructions and modern digital touchpoints ensure your users will see tangible benefits from your modernisation effort.
Modernisation will restore the rapid and reliable availability of spare parts for your system. This is crucial in any sucessful maintenance strategy. We plan your modernisation accordingly.
With remote access to our 24/7 control centre, our trained operators can view the status of your system at any time, support personnel on-site or carry out direct troubleshooting if necessary.
Up to 100% of pallets an be equipped for EV-charging to meet future requirements now. Reduce costs by shuffling cars after charging. Power supply can be tracked for correct invoicing.
1. Analysis/Proposal
Our team of experts reviews your existing documentation. Based on this and our subsequent onsite assessment we develop a clear and transparent modernisation proposal as the basis for your decision.
2. Manufacture
We source and manufacture all elements of your project. Our own manufacturing plants utilise renewable energy in manufacturing your equipment in Germany (100% RE) and Romania (60% RE).
3. Completion
We take on the complete project management, installation, and commissioning of the modernisation. Hand-over includes a site acceptance test, certification, documentation for your system as well as personnel training.
4. Maintenance
We offer bespoke maintenance services to guarantee your system operates reliably and at the required performance levels. Lödige experts take full responsibility for the performance and long term condition of your parking system.
Find out more about Lödige Parking Solutions
Car Park Solutions from Lödige Industries

Brochure

Automated car parking system - questionnaire

Use this questionnaire to let us have core information about your project on a single page.
We look forward to your message.

More about car park systems
Modernisation of the Rocket Tower parking system
The Rocket Tower project is an example of how many of the automatic parking systems that were developed in Berlin in the 1990s can be preserved and made usable for long-term, convenient use with appropriate modernisation measures.
Service for Car Park Systems
Lödige Industries provides bespoke maintenance services for automated parking systems to guarantee your system operates reliably and at the required performance levels.
Public Parking
User-friendly parking with high-performance technology: geared towards high frequency and fast retrieval our automated parking systems add space and appeal to your public building project.
Residential Parking
Extreme space-saving and e-charging ready: our parking technology for residential and commercial buildings parking can enable your building permit and financial close.