Car lifts by Lödige
The leading car lift supplier
Lödige Industries is known worldwide as the leading company for projects with car lifts. We have completed many successful projects over the years and have become the number one supplier for with consultants, architects, clients and contractors.
All of our vehicle lifts are manufactured at our head office in Warburg, Germany and are fully bespoke to suit client and site requirements. We offer two types of car lifts, hydraulic scissor car lifts or hydraulic car lifts, both of which are available from 3,000 kg up 10,000 kg loads with any car or door configuration available.
Our products are made to last and are highly engineered, with all the components named high quality parts that are fully open protocol. All of our car lifts are designed and manufactured by us and everything we do is bespoke to suit the client, architect or consultants requirements.
Times are changing
The demand for parking in UK cities is on the rise but there is very little space available. For this reason, a solution is needed. A car lift is the best way to make the most of your basement size without having to find the space for access ramps. By removing the need for the access ramps you can save 25% more space. Lödige offers two types of car lifts, a scissor lift and also a hydraulic lift. Both types on offer can move max loads of 3,000 kg up to 10,000 kg and can have a travel distance of up to 24 meters. Cabin and door sizes can be made to suit your needs, we also have many options for control buttons and switches. This allows you to tailor your lift to suit your needs, thus improving the overall look and feel of the building.
Sectors
We have installed multiple car lifts across the UK in residential buildings, car show rooms and car manufacturing facilities.
When it comes to residential lifts, we have installed car lifts in private houses as well as apartment buildings. Car lifts add an element of luxury to any home - they are easy to use, safe and reliable.
Car showroom lifts allow the clients to move the cars between floors with ease. There are Lödige car lifts in various showrooms across the UK, including flagship store.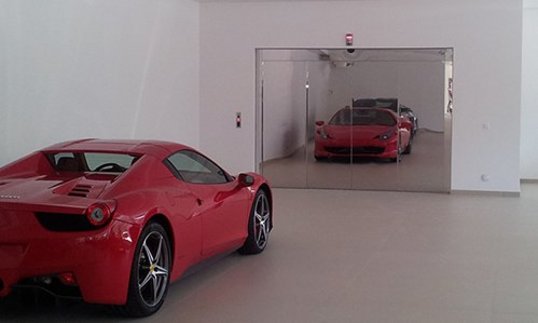 TRAFFICO
Faster parking for added flexibility
Max. lifting height: 25 m
Max. speed: 0.6 m/s
Pit depth: 1.250 mm
Particularly suitable for up to 40 parking places
CARRICO
Less frequent traffic - less space required
Max. lifting height: 25 m
Max. speed: 0.15 m/s
Pit depth: 850 mm
Particularly suitable for up to 26 parking places
PEGASOS
Easy to plan: no pit - no machine room
Max. lifting height: 24 m
Max. speed: 0.15 m/s
No pit required
Particularly suitable for up to 20 parking places
VERTICAR
Robust technology - fast installation
Max. lifting height: 3.5 m
Max. speed: 0.15 m/s
Pit depth: 650 mm
Particularly suitable for up to 15 parking places

Find the right solution now
A car lift? Or an automatic parking system?
---
This product finder shows you suggested solutions for your project in just three steps.
Results are displayed directly to you (no registration).
Car Park Solutions from Lödige Industries

Brochure

TRAFFICO, CARRICO - car lifts, Planning guide

(Status: 2022-11-25)

PEGASOS car lift, planning guide

(PEGASOS car lift, planning guide
We look forward to your message.
---
© Copyright Images/Movies: Unless otherwise stated, all copyright lies with Lödige Industries GmbH. Cover picture: Daniel Vieser. Architectural photography, Hildesheim/Karlsruhe